Tree House Building Workshops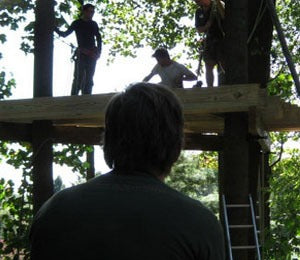 Treehouse World proudly hosts workshops to teach the art and craft of treehouse construction every year. What better place to gather among other treehouse professionals and aficionados to swap arboreal adventure stories!
The workshops will cover the familiar basics of arboriculture, engineering, and tips and tricks of the trade. We will also be adding to the awesomeness at Treehouse World by building new and exciting tree structures. So pull up a log or join us out on a limb, whether you want to learn how to build a safe & tree friendly backyard perch or to stay current with the best practices in tree house building today.
Participants must be a minimum age of 12 years old.
Previous Workshops:
May 19-20, 2018
Thank you for a successful Spring Workshop!
Upcoming Workshops:
September 22-23, 2018
Cost is $579.00 per person. Includes workshop, full meals, & one of our famous treehouse t-shirts.
We teach treehouse design & construction techniques, tree biology, proper hardware installation, rigging, TAB installation, zip lines & bridges, and other topics per request (to request, make a note on the Registration Form).
The hands-on project is still to be determined, but it will include a tree platform installation and something else, such as a bridge, another style of platform, or whatever is the most interesting or useful activity we can imagine.
If there is enough interest, we may extend the workshop another 1-3 days. If you would rather get more experience with us by starting on Friday (a day early) or sticking around through Monday and Tuesday, then please indicate that on your registration form and if several people are up for it, then we will make additional days available for $125/day/person. We have done this a couple times in the past and people traveling from abroad or the other side of the country often want more than a 2 day experience, so let us know how many of you are interested.
Workshop Location: 1442 Phoenixville Pike, West Chester, Pennsylvania
For Lodging Information:
Hotels & Camping Near Treehouse World
For More Information or to Register:
Contact Us
Course Information
For additional course information be sure to check out these pages:
Typical Workshop Classes | Construction Workshop Philosophy | Hands On Learning